Arky Flippin' Jig Molds
"OK- what the heck is Flippin?"
One of the most reliable methods for taking really large bass is "flippin". Have you ever fished with a cane pole? Flippin is very similar. It's a way of hunting shallow water with heavy cover for fish. You need to stalk along the area quietly while hunting for fish and prime spots. Flippin jigs requires the use of a heavy bait to get through the cover, a stiff weed guard to eliminate hang ups, and a heavy hook to handle the big ones. Tie this on a long pole with a short line, pop it through "fishy" spots with dense cover, jig it up and down, and hang on!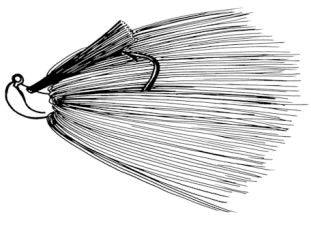 To purchase your Arky Flippin' Jig mold, click on the PayPal "Add to Cart" button below to buy online, or you can download our catalog and order either via US mail or by telephone!