Arky Spinner Bait Molds
"An Old Favorite with a Twist"
The Arky Jig has long been a favorite of bass anglers. So, how can you improve on a good thing? Add a spinner blade, of course! Arky Spinner Baits combine the best of 2 styles of bass bait to create a real hawg stopper!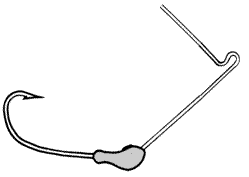 To purchase your Arky Spinner mold, click on the PayPal "Add to Cart" button below to buy online, or you can download our catalog and order either via US mail or by telephone! Note: All Arky Spinner Bait Molds use R-EYE wires.