"Controlled Depth Trolling"
Hilts Quality Downrigger Balls are better because when turning around structure (where the fish are), they track true with all boat maneuvers. Other downrigger weights with planing surfaces track erratically and can ruin your whole day. Spend more time fishing with Hilts Downrigger Balls.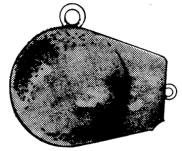 To purchase your Downrigger Ball mold, click on the PayPal "Add to Cart" button below to buy online, or you can download our catalog and order either via US mail or by telephone!