Egg Sinker Molds
"In-Line Sinkers for Maximum Feel"
Egg Sinkers are used when an "in-line" sinker is needed. They give you direct contact with your bait for better feel of the bite. This sinker is great when you want your bait to drift with current, spreading your presentation. 1/8 & 1/4oz are popular for fly lining bait near the surface- they provide just enough weight to cast light anchovies and sardines in windy conditions.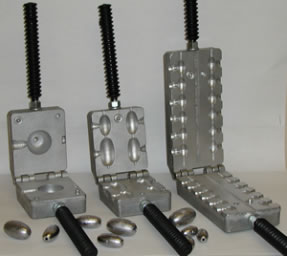 To purchase your Egg Sinker mold, click on the PayPal "Add to Cart" button below to buy online, or you can download our catalog and order either via US mail or by telephone!