Horse Head Jig Molds
"Striper Killer!"
The Horse Head Jig is a bucktail jig on steroids! The unique head shape provides darting, diving bait fish action, while the spinner provides flash attraction to trigger a strike. Fish this jig in a manner similar to the standard bucktail- work the perimeter of boiling striped bass, or dive it deep and retrieve fast with a stop-and-go method to take advantage of this bait's finesse properties.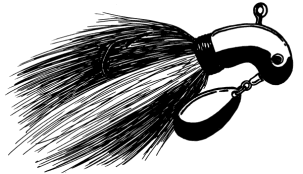 To purchase your Horse Head Jig mold, click on the PayPal "Add to Cart" button below to buy online, or you can download our catalog and order either via US mail or by telephone!