Spinner Body Jig Mold
"Trout Beware!"
The Spinner Bait has been a trout fishing standard for years. Combine your favorite color patterns, spinner blade, and fish hair with the wide variety of body sizes in our mold, and you've got a lure for every trout fishing situation.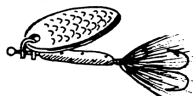 To purchase your Spinner Body Jig mold, click on the PayPal "Add to Cart" button below to buy online, or you can download our catalog and order either via US mail or by telephone!
Note: LMSPIN uses .031" diameter SB-WIREs as core wires. You must purchase the cores to use with these molds; they are NOT included with the mold.