Split Shot
"When Just a Little is Enough"
Fly lining an anchovy? Working a worm in calm water? When just a little weight is enough, try Hilts Split Shot. All split shot molds have Gripper Teeth to hold the line firmly without slipping. * Always use pliers to tighten and remove split shot from your fishing line; NEVER use your teeth to pinch the split shot on your line.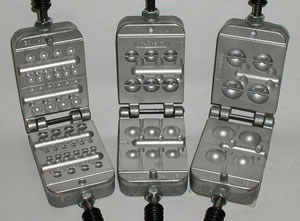 To purchase your Split Shot Sinker mold, click on the PayPal "Add to Cart" button below to buy online, or you can download our catalog and order either via US mail or by telephone! Note: Always use soft lead in these molds.